Inexpensive X-ray inspection instrumentMX-60Basic/ MX-90Basic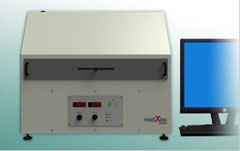 MediXtec Japan Corporation offers a much less expensive X-ray inspection system by featuring least functions required for X-ray radiography inspection, for example deleting an automatic platform, to meet the demand from many users that they need x-ray apparatus but cannot afford to it.

The truth is that the manual function is enough since it can meet most of inspection needs. Please contact us!
Application
Inspecting bridge, , dropped, and relay between BGA balls
Internal inspection of molded parts as sensors
Heater Coil
Analysis of internal structure of a motor
Internal inspection: Connector, Electric parts, or IC
Features of MX-60Basic/ MX-90Basic
1. Largest detection scope among X-ray insturments of this kind(24×18mm)!
 
2. Adopting a 'multi-function lever" for quick and simple operation

A single lever enables you to move a sample along with X and Y axis, and turn it. And this also has a button for ultra-high speed image processing sytem.


3. Light, small and saving spaces
Jigs to fix many samples is mountable.
 
MX-90Basic
MX-60basic
X-ray tube
Tube voltage
30kV~90kV
20kV~60kV
 
Tube currency
0~0.5mA
 0~0.8mA
 
Focus size
0.1mm  
 
Tube structure
Sealed type  
X-ray CCD camera
Resolution
13LP/mm
 
Effective scope
 24mm×18mm 
Sample table
Dimensions
(W)596mm×(D)470mm×(H)60mm
 
Movable range
160mm×100mm
*Extended to 280mm×180mm (Optional) 
 
Rotary Axis
360° 
Cabin
Dimensions
(W)692mm×(D)554mm×(H)588mm

X-ray radiation level

outside an instrument

 
below 1.0μSv/h
Weight
 
125kg
Image processing
ImageView

Image compensation(Brightness,Gamma, Contrast)

Integration、Averaging、Calculation、

Save Image、Save Movie、Maximization of display

PC
 

Included in standard package(Windows 7)
Examples of Images